ZANGDOK PALRI ACTUALITES
Sambhota Primary School – Orphanage
No 28 – February 2016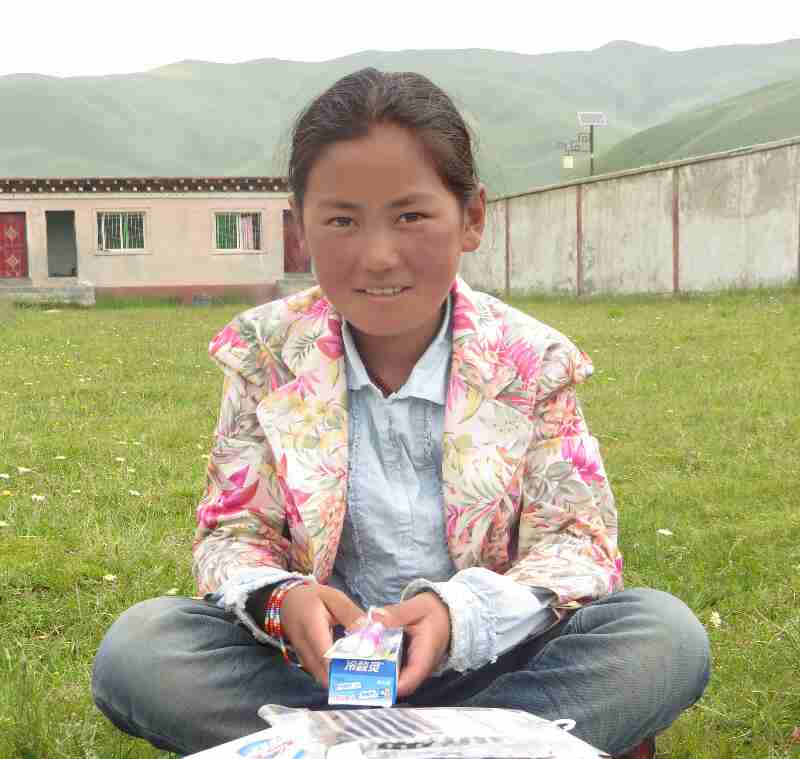 Our priority: the school-orphanage
In Tibet, sending a child off to school is not always an easy choice: there is always plenty of work to do in a nomad community, and letting go of a pair of helping hands can lead the family into financial difficulties.
That is why our three secondary school students in Chengdu have answered their parents' calls and have returned home, interrupting their training for the time being. We have faith in their accomplishments, though: their thorough knowledge of Tibetan and Chinese and their notions of English and ICT are assets that will prove very useful in the future.
Because there are no primary school students ready to take over from them yet, our secondary school is put on hold for the time being, and we focus all our efforts on the school-orphanage, which continues to serve its 35 students, most of them in boarding school.
Around Dzogchen, the effects of this training sometimes come very quickly: several girls who have finished primary school and have started their own families now give literacy courses to the villagers in their region, securing a modest income for themselves. We are naturally very happy with this indirect transmission of knowledge!
Tibetan culture: Pilgrimages, the quest for the sacred
A cultural tradition as much as a religious one, a pilgrimage is called né kor in Tibetan, literally to circle a (holy) place, because Tibetan Buddhists walk around sacred buildings and places clockwise as a sign of respect and devotion.
These holy places can be manmade sites like monasteries, temples or hermitages; in Lhasa, such sites include the Potala (once the primary residence of the Dalai Lamas) and the Jokhang temple, a high-ranking spiritual site containing a famous Buddha statue.
Other pilgrim destinations include holy natural sites like mountains, lakes, caves and springs, one of the most visited being Mount Kailash in western Tibet. The koras (circumambulations) of these sites sometimes turn into arduous long-distance hikes over hills and rough terrain.
The pilgrimage is often an opportunity to live an adventure. But it is above all a spiritual quest, a period during which the pilgrim focuses on meditation, on reflection, on the development of human qualities.
Throughout the journey, Tibetans offer hospitality to the pilgrims as they feel honoured by their presence.
Some pilgrims complete the journey doing prostrations, making their trip last several months or even years, depending on their destination. The pilgrim prostrates by first joining his hands above his head, then level with his throat and heart. Then he stretches out on the ground, belly down, arms outstretched. Putting down a pebble at the end of his outstretched fingers, he rises, moves forward right up to where the pebble is, and repeats the practice. Circling Kailash prostrating like this takes at least four weeks.
Colin Thubron has left a colourful description of a group of Tibetan pilgrims circumambulating Kailash:
"The Tibetans set off cheerfully round the mountain as if it were a plateau. They twirled prayer-wheels and murmured  mantras. Some carried babies on their backs, others shepherded little children. Their faith was practical and sensuous. Every rock formation was a god to them, or commemorated some mythic action. The earth itself was holy: the herbs it grew, even its dust. At the four little monasteries that staked out the cardinal points of the mountain, they offered incense or barley to a pantheon of deities. They prayed for better fortune – a son, another yak (…). Hindus and westerners may take four days to complete the circuit. A Tibetan can do it in less than 36 hours."
(Colin Thubron: To a Mountain in Tibet, Ed. Chatto & Windus)
And then…
a few popular sayings, examples of Tibetan common sense and sense of humour both. Some of these are even quite similar to our sayings!
It is easier to cover one's feet in leather than to cover the entire earth in leather.
Before changing the world, we need to change ourselves.
If you drink the valley's water, respect the valley's laws.
When the cat is away, the mice celebrate New Year.
It is easy to spot the flea in another's hair and ignore the yak on one's own nose.
Watery mouth before the meal, watery eyes when the bill arrives.
Thieves never steal bells.
If it works, it's yoghurt, if it doesn't, it's curd!