ZANGDOK PALRI ACTUALITES
Sambhota Primary School – Orphanage & Sambhota Secondary School
No 26 – March 2014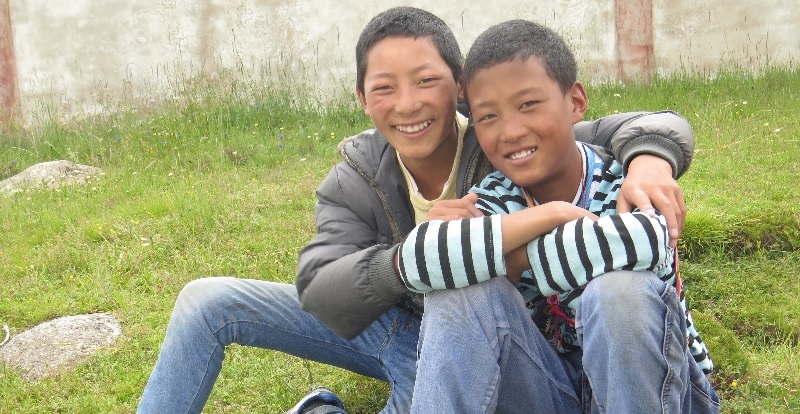 Early winter, in Dzogchen…
Time for a new set of warm clothes! Each item has been chosen in a generous size in order to last more than one season… Down jackets, lined trousers and boots were more than welcome this particularly rough winter, and it's not over yet either.
Good news for the Dzogchen school children: we have been able to purchase a total of four cows to add to the school's small herd, which is now once again capable of furnishing the school with essential dairy products. The four dri have been entrusted to a nomad family, which takes good care of them and processes the milk, allowing the children to enjoy fresh butter and cheese every day.
Tibetan medicine (continued)
Today, Tibetan medicine is practised in Tibet itself, in other Himalayan countries like Nepal, Ladakh and Bhutan, in China, Siberia and Mongolia, and in India, where the small town of Dharamsala, residence of His Holiness the Dalai Lama, hosts the Tibetan Medical and Astrological Institute (the Men Tsee Khang). Its mission is to safeguard, develop and promote this precious ancestral knowledge, locally as well as in some fifty hospitals throughout India and Nepal.
The doctors, called amchis, traditionally start their learning at a very young age, and the knowledge is often passed on from father to son. Their training includes the study of Buddhist texts, medical works and astrology as well as healing techniques and the identification of medicinal plants. The amchis search the mountains for these plants and transform them into medicine using techniques that have remained unchanged for millennia.
Heirs to this knowledge, today's amchis face new challenges. Firstly, with a view to international recognition, Tibetan medicine will need to conform to international classification systems and quality standards without losing its unique character.
Secondly, to practise their science, the amchis depend entirely on the Himalayan ecosystems, which are in many places fragile. Overharvesting botanical resources might prove disastrous and quickly lead to an impoverishment in ecological diversity. Deepening the knowledge of their global environment is therefore crucial and may lead, as a partial solution, to the systematic cultivation of medicinal plants.
To youngsters wishing to become amchi, a new avenue has recently opened: medical faculties are proposing an approach to the Tibetan medical system similar to what we know in the West, respecting nevertheless all the particularities of the amchis' science. Students are trained for a period of at least seven years.
In the West, Tibetan medicine is presently not officially recognised in the majority of countries. As a result, Tibetan doctors are not authorised to practise. Nevertheless, Tibetan medicine sparks plenty of curiosity and interest, as crowded conferences and seminars testify. Could they not learn from each other, highly specialised and technological western medicine and Tibetan medicine with its global approach of the individual as a whole? Could they not prove complementary in the end?
For more information, please visit the website of the Tibetan Medical and Astrological Institute (in English):  http://www.men-tsee-khang.org
Feel like trying a typical Tibetan dish?
Here is the recipe for Tentuk.
Ten means to pull/draw and tuk is short for tukpa, which means soup. Tentuk is a noodle soup hugely popular in the whole of Tibet.
Ingredients for two:
½ oignon, 250 gr of beef, 3 tablespoons of oil, 1 teaspoon of vinegar, 1 tablespoon of soy sauce, barley flour, various vegetables (e.g. Chinese cabbage or carrots), pepper, salt, finely chopped hot pepper.
Preparation:
1. Prepare the dough: add water to the flour to make a quite tough mixture, then knead and let rest for 30 minutes.
2. In a pot, lightly fry the meat in some oil.
3. Add the meat and vegetables to boiling water and let boil for about 10 minutes.
4. Flatten the dough by hand. A few minutes before the meat and vegetables are done, cut the dough into pieces and add to the boiling water.
5. Let boil for 2 to 3 minutes.
6. Your tentuk is ready!