8th Tibetan Cultural Festival – press release
Saturday and Sunday September 23rd and 24th 2017
Parc Georges-Henri
Woluwe-Saint-Lambert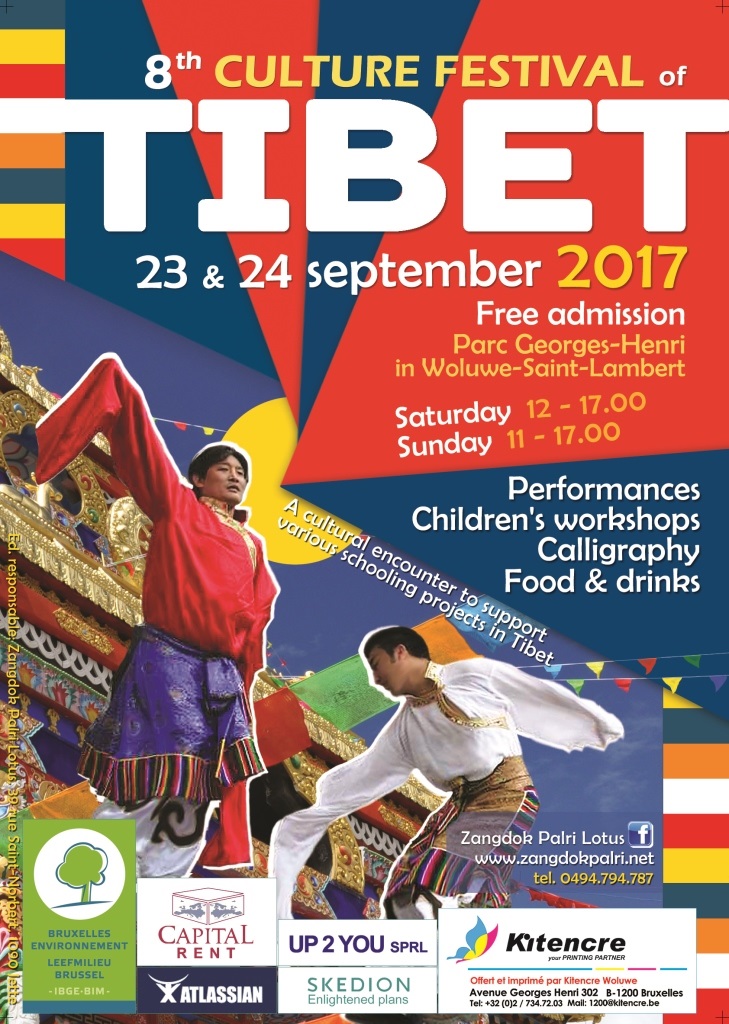 Considered a mythical land for centuries, it has only been recently that Tibet, Land of Snows, opened itself to the outside world, showing an extraordinary cultural and human wealth. Rituals and customs, artwork and worship objects: this 8th Tibetan Cultural Festival aims first of all at exploring Tibetan traditions and modern expression in order to contribute to the preservation of that so inspiring ancestral culture.
Organized by the Zangdok Palri Lotus non profit association in the presence of lama Patrul Rinpoche, the Festival will take place during the weekend of 23 & 24 September 2017, in the magnificent setting of the Georges-Henri Park in Brussels.
Throughout these two days, various musicians will offer their most beautiful melodies under the wooden kiosk, and you will be offered a program rich in entertainment for the whole family: traditional songs and dances, a fair-trade art market of the Himalayas, books on the Land of Snows and Tibetan Buddhism, creative workshops such as Tibetan calligraphy and activities for children. Not to forget the gastronomic pleasures with culinary specialties prepared by our Tibetan cooks, such as 'momos', ravioli stuffed and steamed …
All the activities will take place in the open air, in a large tent made of yak hair and in festive tents as they are still used today by Tibetan nomads during festive occasions.
We will be happy to welcome you for the Festival. The more the merrier!
Useful information :
free entrance.
The activities will take place all day, Saturday from 12:00 to 17:00, and Sunday from 11:00 to 17:00.
The culinary tastings, sold at a democratic price, are served from 12 :00 to 14 :00.
The benefits of the event are intended for educational projects conducted in Tibet by the association Zangdok Palri Lotus.
Everyone is welcome at all times!
Venue of the festival :
Parc Georges-Henri
1200 Woluwe-Saint-Lambert
(5 minutes by foot from the metro Tomberg)
Contact :
festival.culturel.tibetain@zangdokpalri.net
Phone: 0498 333 797
Organized by Zangdok Palri Lotus asbl
www.zangdokpalri.net